Hey guys, it's time for our weekly round up!
This week actually wasn't as busy as last week. Thank goodness because a girl needs some down time every now and again ;) I actually did meet with a client literally within walking distance from Uptown Charlotte this week. And I'm so excited because we're doing an Interior Room Design in a chic - Urban style!
Okay now onto my weekly design adventures... I participated in a Design Challenge this week hosted by
Chairish
- I love this site! The rules were to create a colorful Design Board around two of their vintage chairs. If you missed my board click
here
.
Image:
Chairish
Here's the artwork we'll be using for the Urban Design Project I mentioned above. When I asked my client about the type of artwork she likes she mentioned "cityscapes". Then later while sourcing art, I saw this abstract cityscape below and knew it was the one! And it's affordable at less than $300, it's perfect!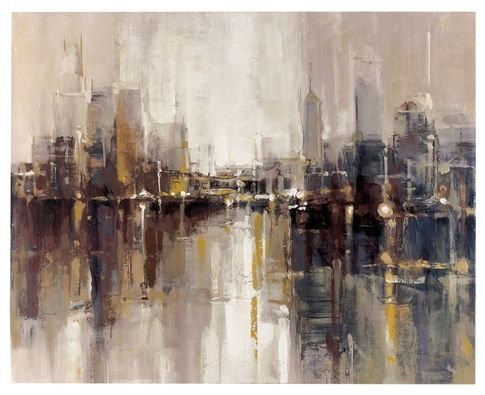 Have your guys been to Hobby Lobby Lately? I went there the other day to return a few items, and
these lovelies
below stopped me in my tracks! If you've been looking for a fun way to add a little gold into your home's decor (without breaking the bank) these are great finds! And they're half off right now at just $20 each!
I styled our coffee table this week. I used stacked books and magazines, the deer antlers my hubby gave me for Christmas - love him!
A brass tray and my favorite piece, this blue/green iridescent dish I found at a discount store for less than $15. Loving the overall layered and collected look!
And finally have you ever come across a great deal, be it clothing or home accessories/furnishings and regretted not buying them? Well that's exactly what happened to me this week while shopping at Home Goods. I came across these beauties below and passed them up. Seriously, they are upholstered in the prettiest gray linen and priced at just $89 each. What was I thinking!! #regret
Okay guys that's my Friday Five and weekly round-up! I'm loving this new Friday feature by the way. Have a great week-end!